Usually, these shared cycle rides were their destressing and bonding sessions.
But this week, Maya and Alina were finding it difficult to let loose. The recent spike in interest in the upcoming range of Widget Wearables has been phenomenal. And everyone in the firm was buzzing about the positive feedback. After all the hard work, it seemed that Widget's Theta range of health monitoring Wearables aimed at the emerging fitness-conscious demographics in Brazil, India, Indonesia, the US, and the Middle East had achieved a viral stage in interest.
WhatsApp as the Perfect Tool to Engage Consumers
And therein lay a new problem. Maya, as Marketing Manager, and Alina, as Sales Manager, had floated the idea of opening WhatsApp as a communication channel. After all, these markets had more than a billion active users, many of them having leapfrogged onto the Internet based on a phone number rather than the traditional route of creating an email. And the response to their campaign was incredible. Despite introducing multiple WhatsApp numbers segregated by country, Ad Group, the Customer Service Team was going crazy. In just two weeks, the Customer Service Team had gone from managing eight phones and desktops to 24 phones and desktop combos. It was still a month before launch; they needed help to continue scaling this way.
Messages were not being attended to on time. The same customer was calling different numbers and being given confusing answers. There was no way the Team could export all the WhatsApp chats to a database efficiently and make sense of it.
Does any CRM Integrate with WhatsApp for Business
Alina and Maya were unhappy. Very unhappy. They feared they had opened a Pandora's Box by allowing consumers to contact the company through WhatsApp. If only they could find a CRM that integrated with WhatsApp. On the way back from the ride, they decided to drown their sorrows in the only meaningful way. Dropping in for a pizza at the new restaurant in town.
The two colleagues are lingering over dinner when they bump into Ronaldo- Executive Assistant to the CEO, Mr. Beeg, by day and aspiring musician on the weekends. Ronaldo was here to play along with his partner later in the evening. Grabbing a chair, he joins his two colleagues.
He looked happy for a change. After a harrowing start to the year trying to manage meetings and get status updates, he recently introduced Pronnel into the company as a Meeting Review tool. Since then, he has seen his workload ease significantly. He was no longer stepping on the toes of busy Senior Managers asking for Project updates, having a readymade dashboard for his boss. Yes, his life had become Easier, Simpler.
In a more relaxed mood, Ronaldo makes his colleagues open up about their current problem with WhatsApp.
Maya brings him up to speed before concluding, "…..so, yes, in hindsight opening up WhatsApp was a masterstroke in enabling our target demographic to reach us easily, but you see the problem it's landed us in." Alina chips in wistfully from the side, "If only we could harness all this data in a CRM that does not cost a bomb to implement and takes weeks to set up."
"You know, I may have the solution for both of you. I have been working with the Pronnel for some time. While we as a firm have only been using it for coordinating meetings and managing Projects, they have robust CRM Templates. Customized for B2C, B2B, SaaS, and Products, quite a comprehensive offering. Previously, they used only to provide WebForm submissions integration with CRM. During a follow up meeting last week, their Account Manager told me that they had launched a Native WhatsApp Integration. As long as you have a WhatsApp For Business Account, you can go ahead and receive and manage all your WhatsApp leads in their CRM. You don't even need a third-party App to integrate. Sounds good?'
"Why don't I set up a meeting on Monday morning if both of you are free" finished Ronaldo.
Finally, a solution. A CRM that Integrates with WhatsApp seamlessly.
Would you like to discover what Alina and Maya learned at the Pronnel Demo and how they integrated WhatsApp for Business with their CRM? Check out the two-minute video below to see how you can integrate WhatsApp for Business into Pronnel in four steps:
FAQ's?
Q.How Do I Integrate my Business WhatsApp into my CRM?
You can Integrate Pronnel and your WhatsApp Business Account very simply. Just go to the CRM board on Pronnel. Click on Settings and Navigate to WhatsApp. You will get a screen like this: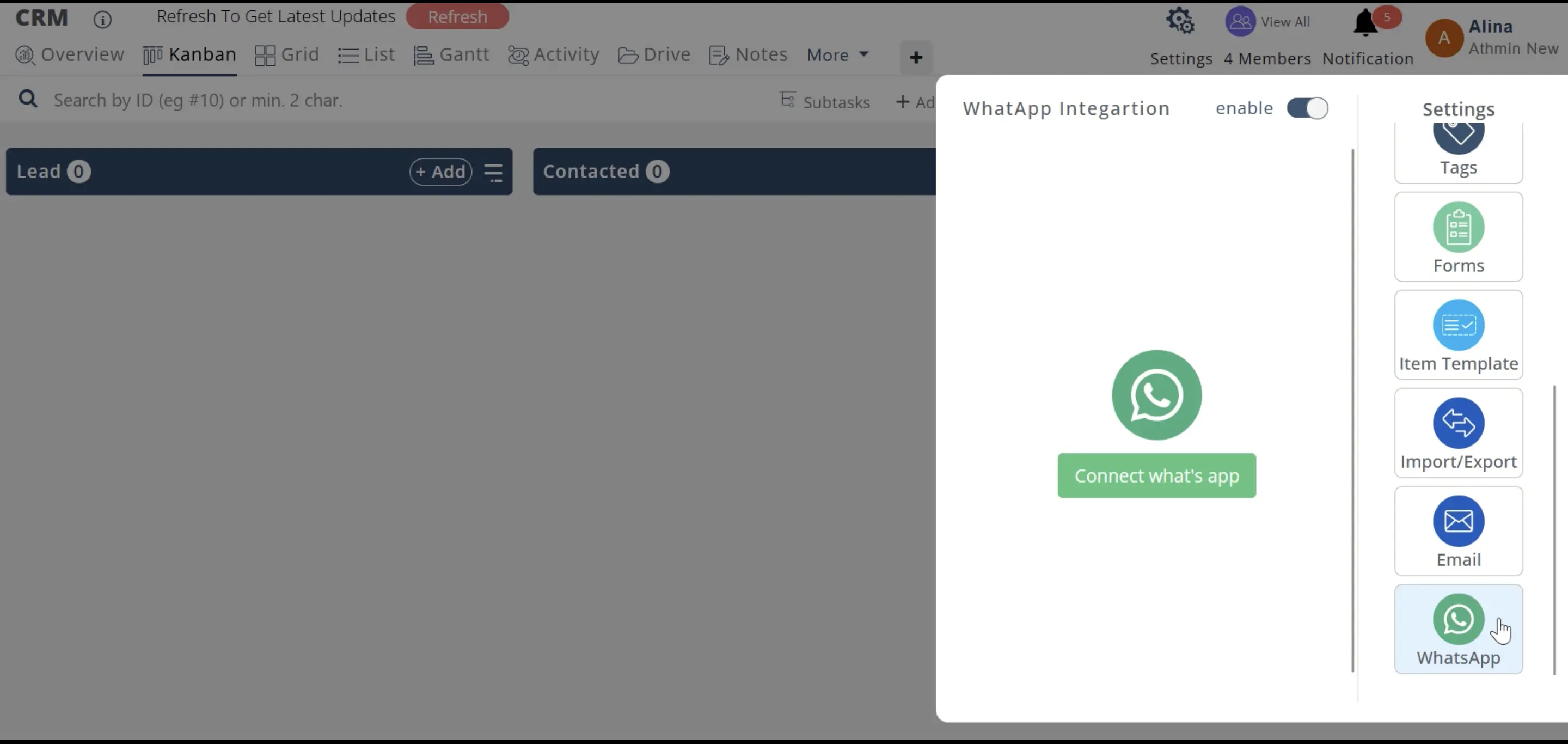 Once you click Connect, it will ask for four pieces of information:
Mobile Number- Your WhatsApp for Business Phone Number
Token Number
Phone Number ID
Business Account ID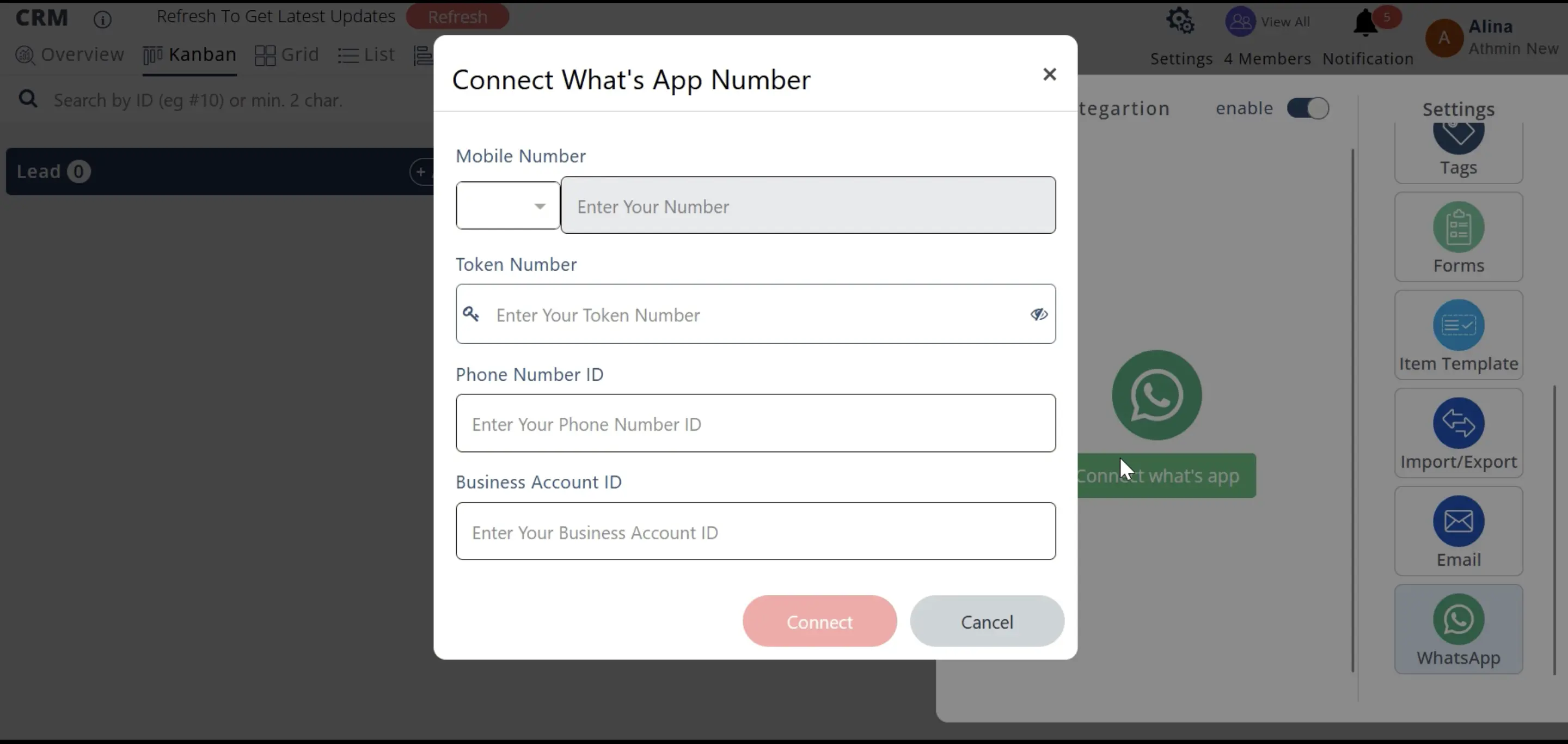 Enter these four pieces of information, click Connect and you are Done.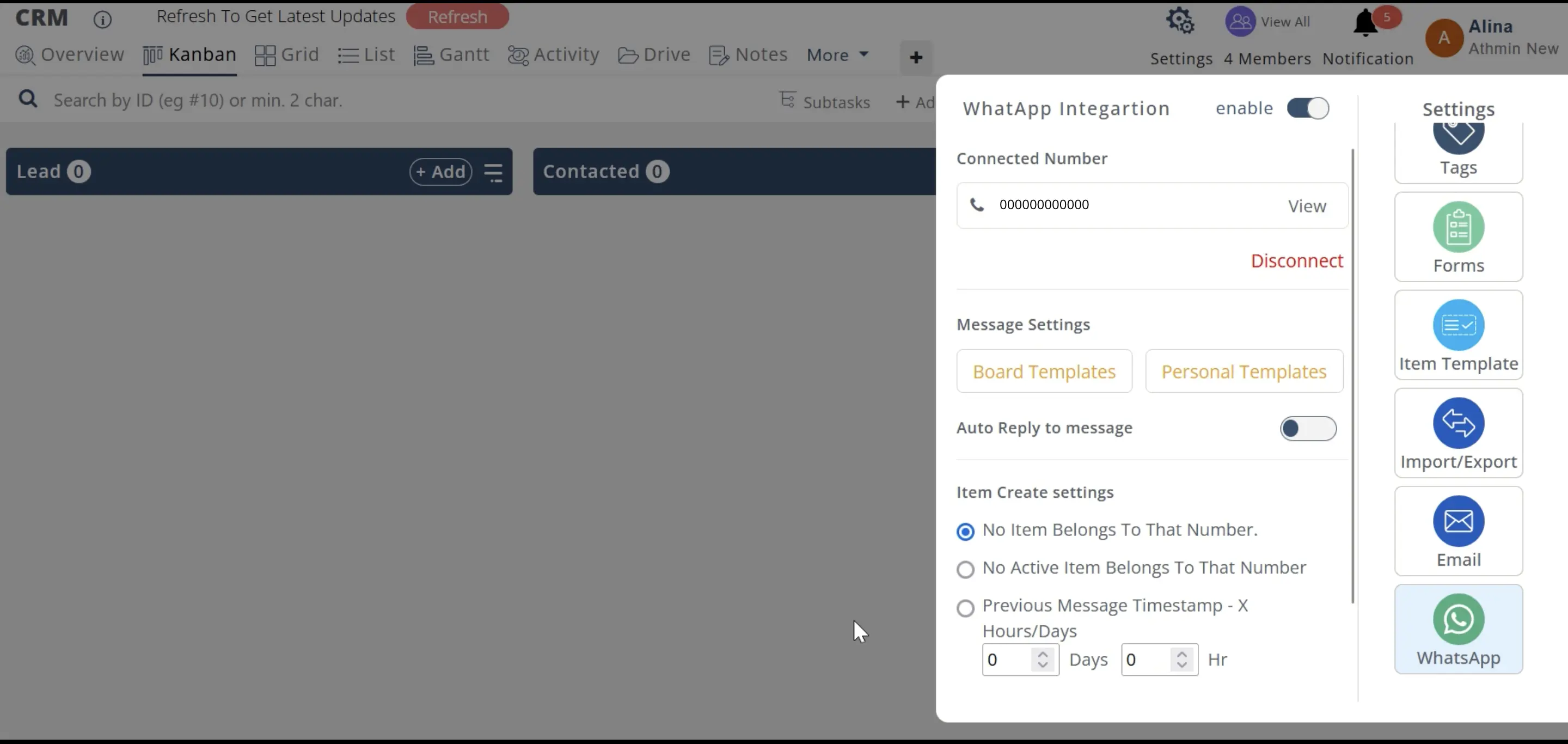 Q. How Will I Get the Tokens That Are Required for Activating my Business WhatsApp Account on the CRM?
The three tokens required to activate WhatsApp for Business (Token Number, Phone Number ID & Business Account ID) can be found in your Meta Developer Account. You can refer the Documentation here.
If you are having trouble sorting this out, drop us a line and we can help you come onboard to Pronnel real quick.