In our previous blog, Implementing ISO 9001? Software Can Help we discussed how Software like Pronnel can aid implementation and working within the ISO Framework. In this blog we delve a little deeper and see how practically this can be implemented. We will cover hosting ISO Manuals on companywide accessible Digital Notice Board, Implement Individual Processes, Carry Out an Internal Audit, Record NCR's and do Management Review Meetings using the Pronnel ISO Implementation Suite.
Activity 1: Online Display of ISO Manuals.
Use the Internal Notice Board on Pronnel to display the ISO Policy. Anyone within the organization has access to the Notice Board. It's located on the Cloud and can be accessed from anywhere.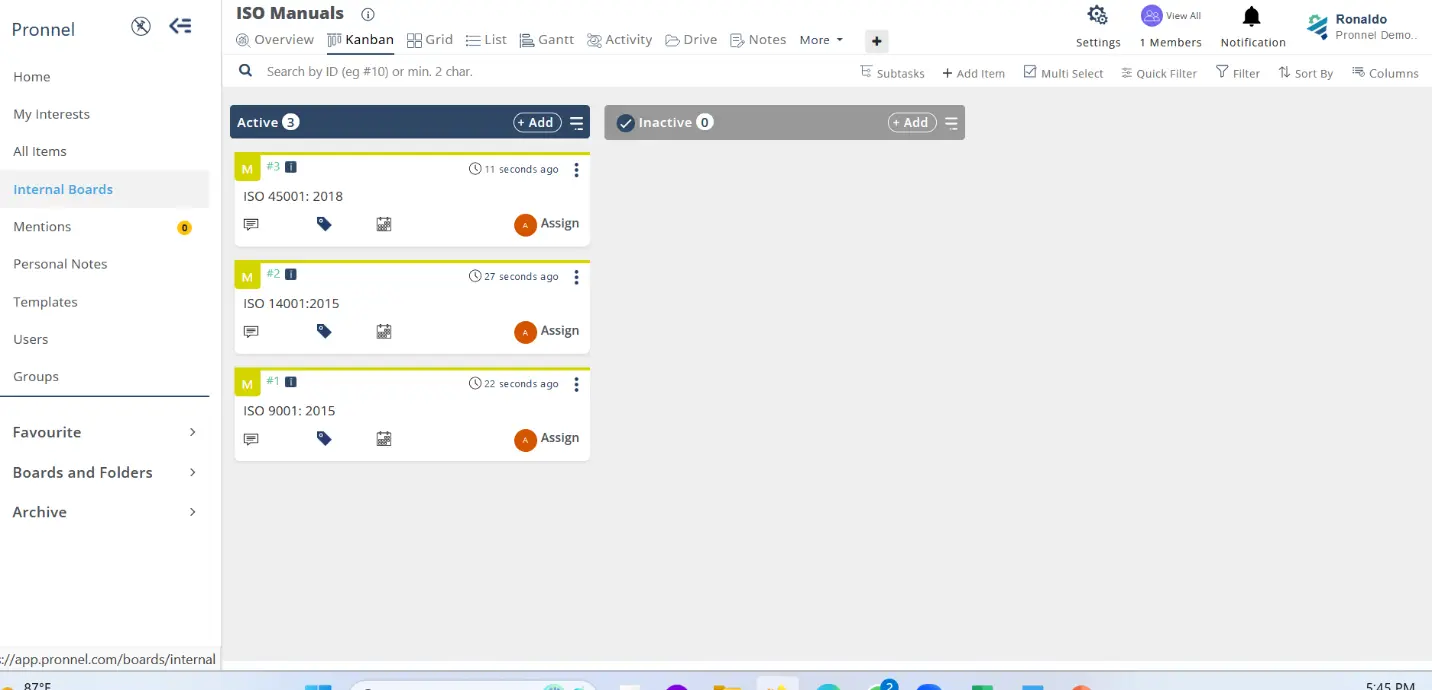 Additionally, you can display the latest version of the ISO Certificate on the ticket itself, so that there is no last-minute frantic searching and mailing needed when the certificate has to be shared with anyone outside the organization.
All details around the ISO Standard, be it ISO 9001:2015, ISO 14001: 2015 or ISO 45001: 2018 can be stored here. At any moment the Management Representative (MR) can edit and update information. Others access it as Read-Only.
Activity 2: Implementing the ISO Procedures
Once you have done your Risk-Assessment, compiled a List of Procedures and created their workflows, mapped with Roles, the first step is segregating procedures by what is already captured and recorded in your ERP and CRM, and the ones that are not. Fill out the below Excel Sheet and upload into the ISO ticket on the Internal Notice Board.

This way everyone on the organization will be aware of how to work on each procedure marked out on the ISO Document. That was easy, next comes building out the processes which are not covered in any system. This is where Pronnel comes to your help.
Using the flowcharts, roles and records to create a Board. For a detailed tutorial on how to customize a Process, you can refer to our "Customize Your Process" page. But the hierarchy will go this way:
Create a Blank Board with the name of the Process. For ease of use you can place it in Folders (For example all Processes in Logistics can be grouped under a Logistics folder)
Put the Description of the Procedure in the Board Description here.



As a best practice, we recommend also copying and pasting the whole Procedure as a Note in the Board in Notes View. This way everyone who is a member of the Board can review the Procedure at any point in time.



Create Process- Use the Process button in the settings menu to build out the process as required. You can add Approvals, permissions as required. The flowcharts you have created in your documentation will be the basis of your work.




Create Item Attributes- Each transaction becomes a ticket in Pronnel. Now, each transaction will have the following characteristics:

Form Fields- Can be Text, Numbers, Files, Images, Videos, URL's, etc. These can be custom added from Item Attributes in the Settings menu.



Assignee- Who will be responsible for this. This is an auto-generated field and will be required when each ticket is created. This will be asked only at time of operation.
Other fields- Pronnel also allows you to add other fields like Start Date, End Date, Priority, Tags, etc. Use them as appropriate.

Add Users- The MR, who has created the Board (as an Admin) can now add other users to the board as Edit Only or Read-Only. These people can use the Board but will not be allowed to change the Process, Item Structure, or add other Users. The added Users will then get an email and a notification on their Pronnel App (available on iOS and Play Store) That's it, you are ready to Record What You Do, Do What You Record on Pronnel.
Activity 3: Conducting Internal Audits and Management Review for ISO
We have shared the ISO Policy, Implemented Procedures on Pronnel. Now to check, review and perform CAPA.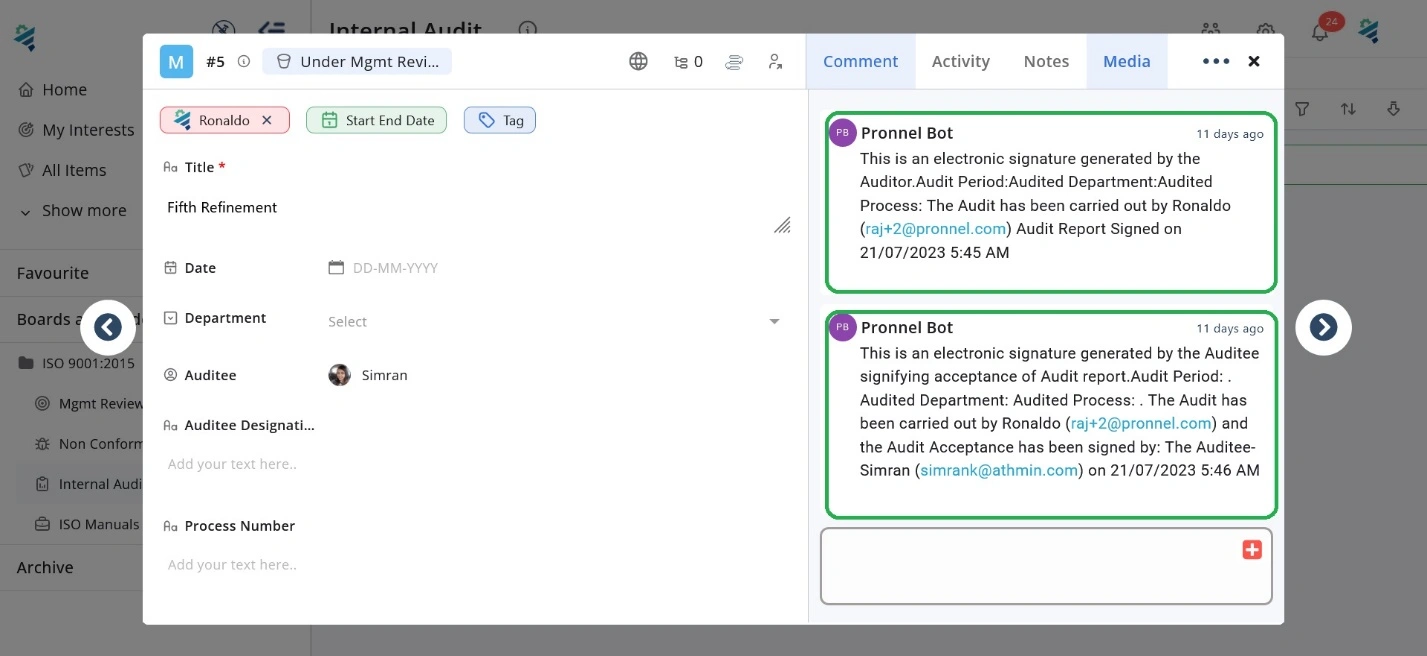 Pronnel comes with a pre-built template for Internal Audit and Management Review. There are three Boards here:
Internal Audit Board- Internal Auditors will use this Board to Audit Departments. Once an Audit has been completed of a Process, the Auditor and the Auditee put down their remarks in the comments as having read and signed off on the Audit Findings. Any changes made to the Board after this will be captured in Activity (Audit Trail). Documentary Evidence can be put here. Should a Non-Conformity be observed then the Auditor can raise a ticket for Non-Conformity in the NC Board and attach it to this ticket. You can use the Tag Feature to differentiate between different Audit cycles. This way all evidence of Internal Audit is available for Management Review and for External Auditors. With Pronnel's Automation tools, you can even have a electronic signature between the Auditor and Auditee which gets populated as a non-erasable comment in the Process Audit Item.
Non-Conformity Board- Should a NC be observed during the Audit Process, the NC can be recorded as a ticket from the attached NC Board and the Audit Ticket can be marked as NC= "Yes". To understand the NC's observed in an Audit Cycle just filter the contents of the Board with "Tag" for Audit Cycle and check.

Management Review Board- Use the Notes feature in Management review Board to track and discuss NC's and any changes to process. CAPA tasks can be created here directly tagging the relevant Audit Ticket Number. Deadlines can be set, and responsibilities assigned. Should the Management Review result in a decision to modify the ISO Process, then this can be set as a Task for the MR. The MR can upload a fresh version of the modified process on the Internal Notice Board and create a new process for the Procedure. The Old Procedure can be put into a folder marked, "Old Process" and all Board members permission can be changed to "Read-Only" so that people don't use the old process, but data will be available for future reference.
FAQ's:
1. I am having trouble implementing my ISO processes. Can you help?
If it's a small issue, bug or small user understanding issue, we are glad to help and one of our Customer Success Champions will get in touch and help you at no extra cost.
However, should you need intensive process configuration, post Onboarding Pronnel's Product Champions can provide implementation support on a paid basis. Drop us a mail at support@pronnnel.com. Alternatively, we can connect you to one of our Implementation partners who would be more than willing to help you out.
2. Can I Audit Processes not implemented on Pronnel through the Pronnel Audit Board?
Of course. You can use Pronnel just for Auditing using the ISO Audit Template and it's associated 3 Board. We have come across cases of adoption, where everything is already encapsulated in the ERP and other systems, but ISO Teams finds it useful to track Audits, Reviews and CAPA Tasks using Pronnel
3. What will happen if the ISO Version changes?
We understand that ISO versions change almost every 7 years. In that case, you will have to redraft your ISO documentation. For implementation on Pronnel, the same logic follows through. You can mark the older versions as Obsolete, repurpose the Procedures that can be reused and in extreme cases create a few new Procedures.
The beauty of Pronnel is that since you are the owner, you don't need an external vendor to help you recreate the software. With a few days' work, no coding, you can change your implementation version. It's that Easy. That Simple.
4. Who has access to my data?
Only members of your organization who you have created as Users have access to your Board. And that too you can restrict users access to the Boards that are relevant to them. They don't see other Boards.
Other than this, certain items can be shared with external collaborators. This feature is again Audited and tracked through the Activity View.