Step-by-Step Guide to Creating an Account in Pronnel
Are you ready to take your project management to the next level? Pronnel offers powerful features to streamline your workflow and enhance collaboration. In this post, we will guide you through the process of creating an account in Pronnel so that you can get started on optimizing your project management experience
Watch On

Steps To Follow:
Step 1: Visiting Pronnel.com and Sign Up to begin-
On the homepage of Pronnel.com , you'll find the Get Started button. On clicking, it will direct you to the signup page. You must enter your email address and choose a strong password here. Once you've filled in the required information, click the "Sign Up" button.
Step 2: Confirming Your Email Address-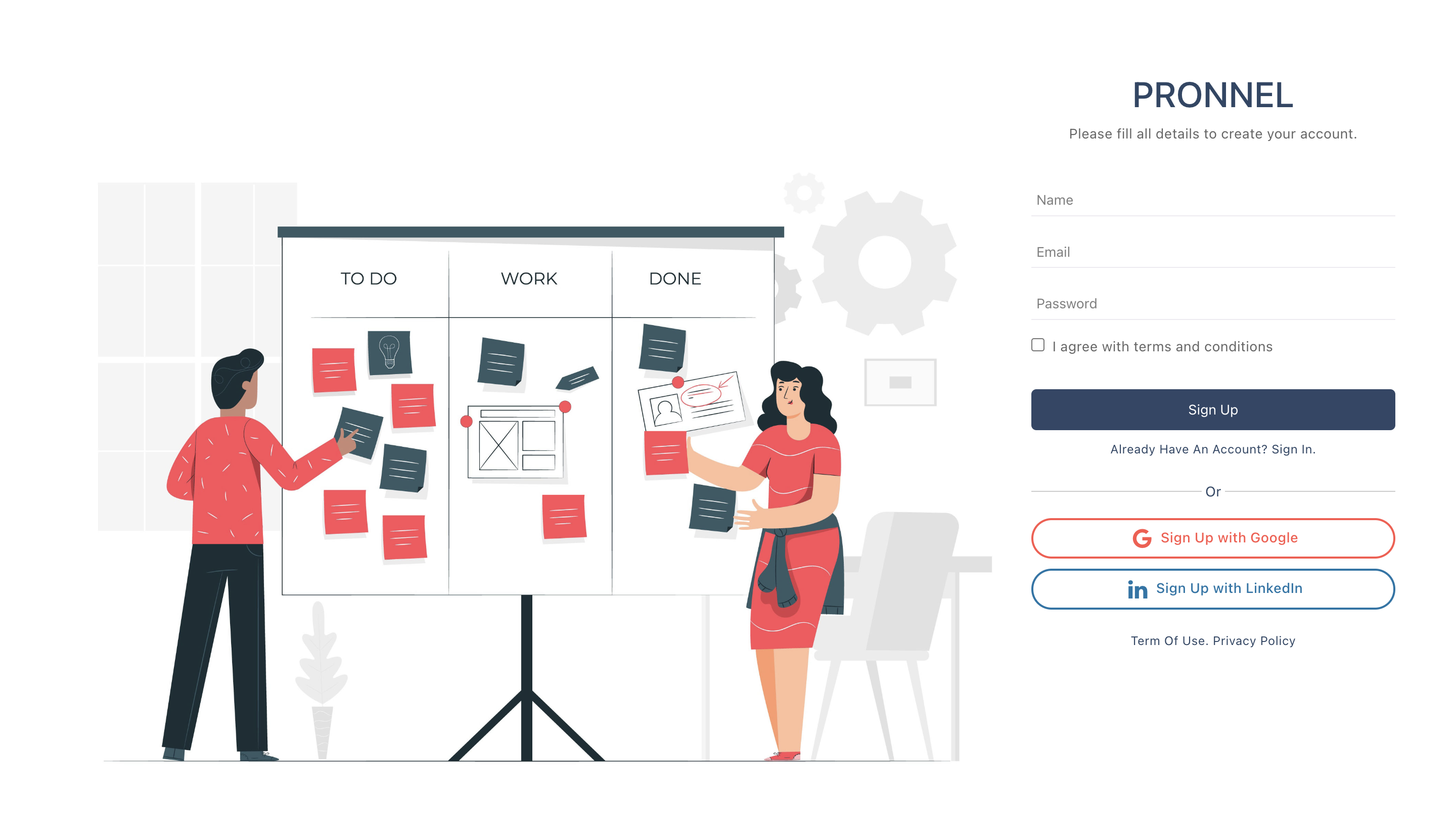 After signing up, Pronnel will send a confirmation email to the address you provided. Go to your email inbox and find the email from Pronnel. Click on the confirmation link to verify your email address. This step ensures the security and validity of your Pronnel account
Step 3: Login and Customize Your Profile-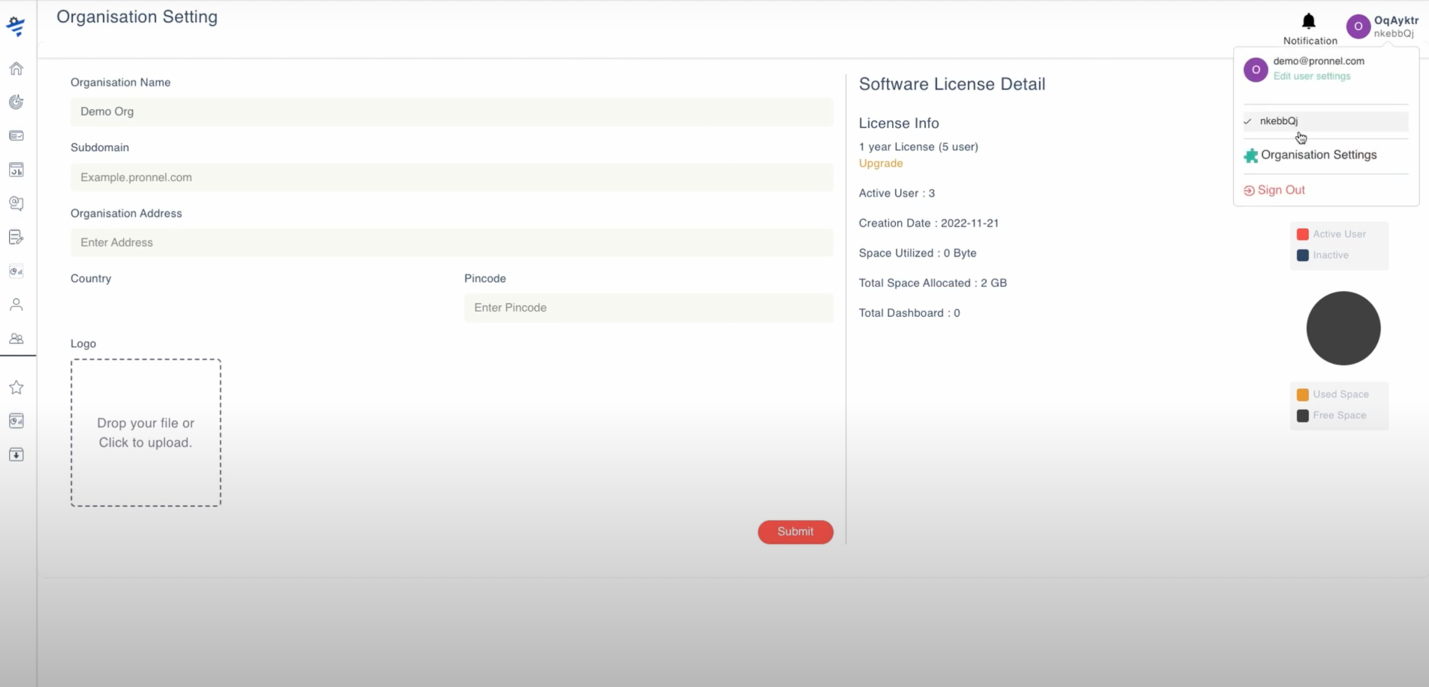 Once you've confirmed your email address, it's time to log in to your Pronnel account. Enter your email and password on the login page, and click the "Log In" button. Upon successful login, you'll be taken to your Pronnel dashboard.
One of the first things you'll want to do is personalize your profile. By default, Pronnel provides generic names for your organization and profile. To change these, navigate to the appropriate settings section and update your organization and profile name to reflect your identity
Step 4: Inviting Team Members-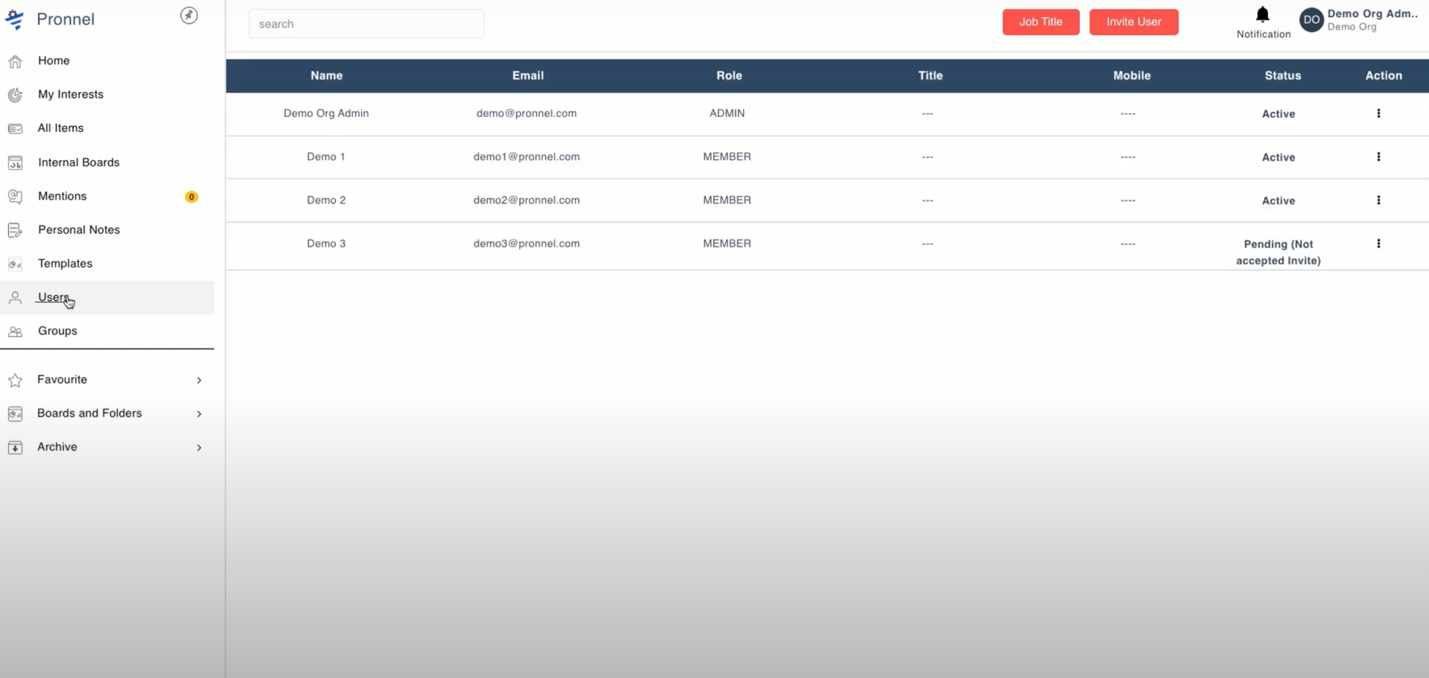 Now that your account is ready, it's time to invite your team members to join Pronnel. Pronnel offers seamless collaboration, allowing your entire team to work together efficiently. To invite team members, go to the "Users" section in Pronnel. There, you'll find the option to add users. Follow the prompts to invite team members by providing their email addresses.
Conclusion
Creating an account in Pronnel is a straightforward process that sets you up for efficient project management and collaboration. Following the steps outlined in this tutorial post, you can quickly get started with Pronnel and unlock its powerful features.
Visit Pronnel.com , sign up with your email and password, confirm your email address, customize your profile, and invite team members to join you. With Pronnel's intuitive interface and robust capabilities, you'll be well-equipped to streamline your project management tasks and achieve more tremendous success. For more clarification, watch the tutorial video on youtube. - How to Create an Account in Pronnel: A Quick Guide - YouTube
Start your Pronnel journey today and experience the difference it can make in your project management endeavors.
Note: The steps mentioned in this tutorial post may vary slightly based on updates and changes made to the Pronnel platform. Please refer to the latest instructions provided by Pronnel for the most exact account creation process.
FAQ's:
1- Someone in my organization has already created an Organizational Account? Do I need to create a fresh account? How do I access Pronnel?
Ans- If someone in your organization has already created an account, you don't need to create a fresh account. Ask the person to send you an invite from the Users tab in Pronnel. All you have to do is accept the link and create your own password.
2- By mistake we have created two organizational accounts on Pronnel, can you merge them?
Ans- Unfortunately, we cannot merge accounts in Pronnel. You will have to choose one account and abandon the other.
3- I have signed in, and invited other users, but all I see is an empty interface. How do I start?
Ans- We recommend seeing the short "Navigation in Pronnel" video to familiarize yourself with the basic navigation and features in Pronnel.
4- How many users can I add to my organization?
Ans- You can add up to three users in your organization totally free. Be our guest and continue using it. There are no limits on the number of boards you can create. Should you need to add more users, you will have to take a license. You can refer to our pricing here. Just drop us an email at support@pronnel.com to discuss additional licenses.
5- What should I do if I don't receive the confirmation email from Pronnel?
Ans- Check your spam or junk folder, and if you still can't find it, you can request a new confirmation email from Pronnel.
6- Can I use my social media accounts to sign up on Pronnel?
Ans- .No, currently Pronnel does not offer the option to sign up using social media accounts.
7- How can I update my organization and profile name on Pronnel?
Ans- Log in to your Pronnel account, navigate to the appropriate settings section, and update your organization and profile name